13: Are We Hardwired? with Dr. Ron Siegel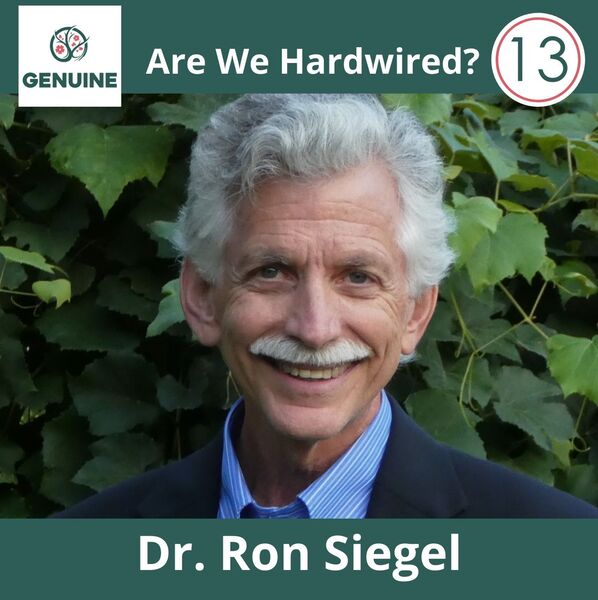 Welcome to the latest episode of GENUINE, the podcast! Today, Dr. Carlton E. Green and Sarah Lipton are happy to have the author and teacher, Dr. Ron Siegel, as our guest. Dr. Siegel is an Assistant Professor of Psychology at Harvard Medical School and Board of Directors Faculty Member at the Institute for Meditation and Psychotherapy.
Dr. Siegel has a warm, humorous, down-to-earth approach to thinking about how we navigate relationships, which is why we invited him to be a guest on the podcast. His many years of work, study, teaching and writing in the field of psychology and meditation has led him to a clear understanding of how we, as humans, tend to get caught up in cycles of dominance and delusion, and what it takes for us to engage in a life that has wellness, balance, and truth.
In this episode, you will hear Dr. Siegel shares his thoughts on what the journey of being genuine entails and how to approach a relationship. We also offer a guided meditation for you to engage in empathy and to rouse compassion. Enjoy the exquisite cello piece composed and performed specially for the podcast by Paul and Melissa Perley. Stay to the end to hear the fabulous genuine definition by Crys Goure, who did the beautiful cover design for Sarah's book "The Harmony of Dissonance."
Carlton and Sarah spent many hours working on this episode and encourage you to take time to soak it up and listen.
Show highlights:
Dr. Siegel shares from the perspective of his training what the journey of being who we are looks like.
The more we can embrace our messiness, the more compassionate we can become toward ourselves. And the more compassionate we are toward ourselves, the more compassionate we can become toward others.
There are benefits to rousing the necessary courage to lean into being gentle and vulnerable in our relationships.
Dr. Siegel discusses our social dilemma.
Dr. Siegel talks about meditating when we are feeling vulnerable or experiencing painful emotions.
Leaning into the balance between our vulnerability and executive function when we are in a position of helping someone else.
Dr. Siegel explains the fundamental ground of empathy. And empathic resonance.
We discuss engaging with compassion versus engaging with empathy.
Dr. Siegel talks about what the word 'genuine' means to him.
Dr. Siegel discusses our human preoccupation with social dominance.
There is value in risking being genuine.
Links and resources:
Dr. Ron Siegel: https://drronsiegel.com
Paul & Melissa Perley: http://www.paulperleycellos.com/
Crys Goure: http://www.crystalgoure.com/
Share, rate and review GENUINE, the podcast: https://sarahlipton.com/blog/podcast/intro/
Learn about GENUINE, the community: https://genuinenetwork.org/