08: Sparks of Inspiration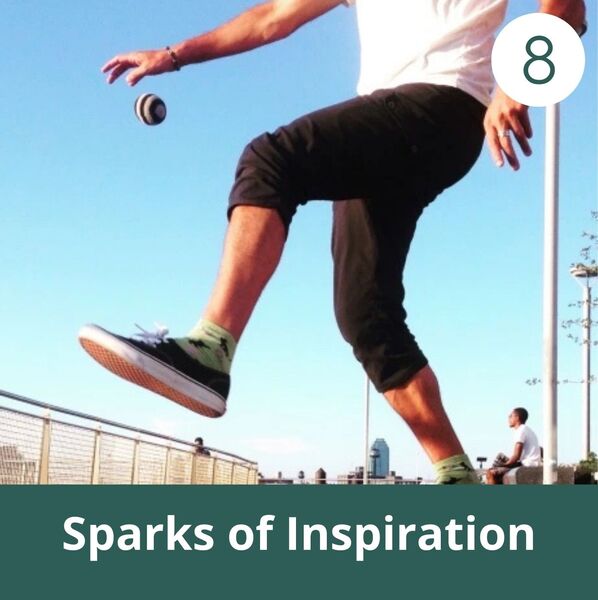 Welcome to the 8th episode of GENUINE, the podcast! Today we travel back in time and space to two interviews from four years ago when there was no pandemic and it was possible to wander around a city playing hacky-sack with somebody.
On today's archival episode, Sarah and Carlton talk about two interviews Sarah conducted, both focused on sparks of inspiration, in two very different arenas.
Eugene Coneglan is a fascinating guy from New Zealand who left his government career to teach people around the world how to hacky sack. Jim Infantino is a deeply genuine, creative musician, author and web developer from Boston, Massachusetts.
As Sarah says, "Leaning into where we are sparked is super powerful," so regardless of where you are right now and how you might be doing, give yourself the gift of a pause to settle in, listen, and enjoy the journey as it unfolds.
Show highlights:
Carlton and I talk about what inspires us.
Eugene talks about the life he is pursuing.
Eugene shares how he developed his passion for Hacky Sack.
The impact that Hacky Sack has made in Eugene's life.
What Eugene learned from Austin, his friend, and mentor.
Eugene shares what he did to pursue his calling.
What you will gain from playing Hacky Sack.
Jim talks about his experience of the creative process.
Jim discusses from where the idea for the book he is writing came.
Jim explains what fulfills him when it comes to web design and songwriting.
How Jean-Paul Satre and Simone de Beauvoir influenced Jim's understanding of communication.
Jim describes the communications he likes to create and talks about what fulfills him the most, creatively.
Jim talks about his napkin poetry shows.
The trap with creativity.
Jim talks about inspiration.
Why you should take a risk and something every day that pushes your boundaries.
Links:
Join GENUINE, the community to enter the conversation and step into our Positive Mind Challenge: https://genuinenetwork.org/
Jim Infantino: https://jiminfantino.com/
Eugene Coneglan: https://vimeo.com/user37053801