07: Permission to Be Who You Are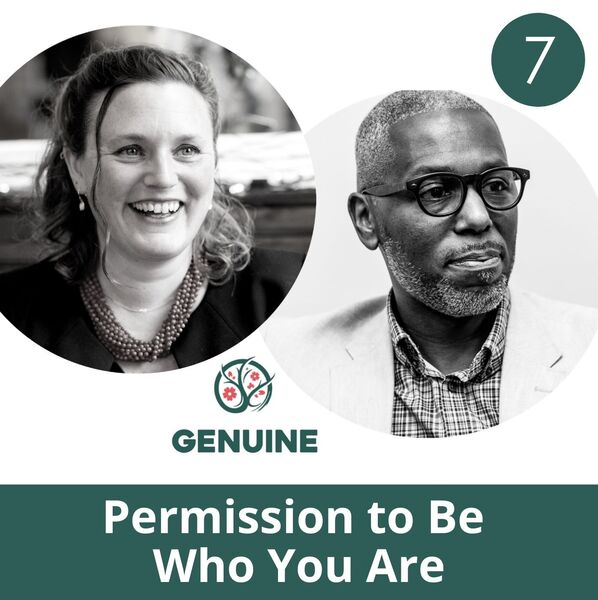 Welcome to another episode of GENUINE, The Podcast. Today, Carlton and I have a conversation about how we can give ourselves permission to be exactly as we are. We take a deep dive into an experience I had recently, which brought forth the message that Sharon Salzberg shared with us on the podcast in a recent episode: "When You Are in Hell, Keep Going."
Sometimes, a conversation is the best medicine. That is how I feel when Carlton and I talk to one another. We sincerely hope that our inner exploration is of benefit to you too! In this episode, we share the message that we can transform through feeling whatever is arising, and we can challenge ourselves to be bold. You will also hear some wonderful music from two sets of musicians. So settle down for a while, relax, listen in, and just be.
Show highlights:
Give yourself a few moments to be present, breathe, and feel your body.
Carlton and I talk about what's going on with us right now, in the present moment.
Inattentiveness to your body's sensations could cause disease.
I recount a recent experience to illustrate a message left with us by Sharon Saltzberg.
Giving myself permission to feel, lean into, and stay with the physical sensations of shame helped me to move through it.
When we pause, name what is going on with us, and decide to be present in our experience, there is the possibility that everything will shift.
Your willingness to keep going when you're in hell and to meet the demons and feed them will transform your experience.
Your attention can shift an entire dynamic.
I explain what the first step to awareness is.
We urge you to think about what you can be curious about in your body, in this present moment. (Remember to take a deep breath).
Our bodies are wise. They know how to guide us through all our experiences.
Dealing with the anxiety that we feel when an aspect of racism becomes a stimulus between people by staying present.
Carlton discusses an article called White Debt from the New York Times.
What happens to you when you can't express yourself.
You are the only one who can permit yourself to genuinely be who you are.
You can begin by offering yourself some gentleness in difficult moments
Links and resources:
Join our community and step into the Positive Mind Challenge at GENUINE, the community: https://genuinenetwork.org/
Eula Biss wrote the article called White Debt in the New York Times.
Thanks to Revival for the music: https://thebandrevival.com/
Thanks to Paul and Melissa Perley for their music: http://www.paulperleycellos.com/